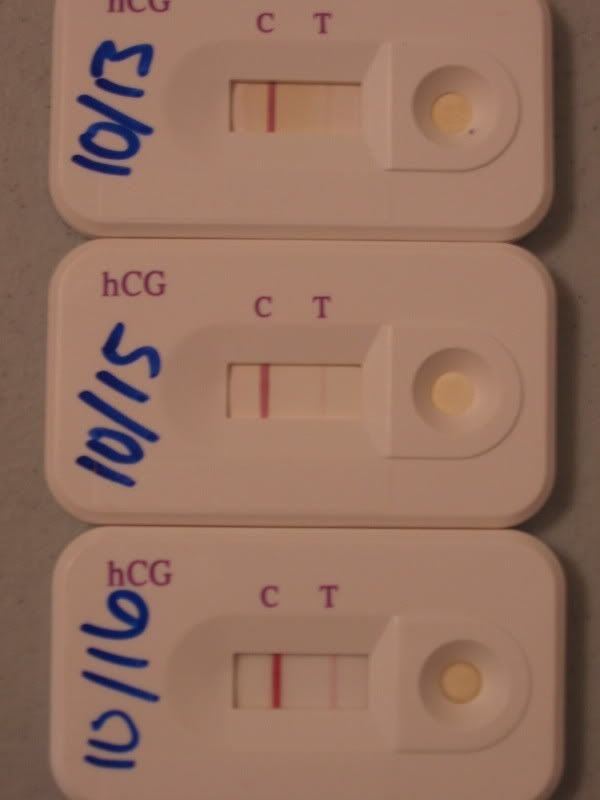 Four years ago today Erin made herself known. My friend
Aubri
convinced me to go to my OB's office for a test after a couple negative home tests. The nurse who had been in the room when we confirmed Cora's death, Christy, was in the office that morning and was ecstatic to see me. She took me back into a room to talk to me. She said "There's a line. But it's so faint that I can't officially say it's positive." It was seriously about half as light as it is in this picture. You could
barely
see it. It darkened quite a bit by the time I got home. Anyway she finished by saying, "But personally, a line is a line. So, congratulations!" She gave me 2 more to use at home a few days apart.
I was so terrified. But that faint line also represented all my hope. Maybe, possibly, I
would
have a baby that I would get to take home.
The morning of the 15th I woke up from an extremely vivid nightmare that I was miscarrying. I ran into the bathroom, so relieved that I wasn't bleeding, and decided that the only thing that would calm me down was to test again. It was such a relief to see a darker line! The 16th was a Monday, so I used the last one for good measure and took them in to the Dr's office (I was supposed to use the second one on Monday, and the 3rd on Thursday). Christy was so excited to officially pronounce me pregnant!